In Massachusetts, public funding for the arts, humanities and interpretative sciences is provided through a central agency, Mass Cultural Council, and a network of local cultural councils that serve every city and town in the state. The Northborough Cultural Council is one of these local entities.


About Mass Cultural Council
The Mass Cultural Council is funded by appropriations from the state legislature and from the National Endowment for the Arts.
The mission of Mass Cultural Council and its local cultural council partners is to promote excellence, access, education, and diversity in the arts, humanities, and interpretative sciences, in order to improve the quality of life for all Massachusetts residents and to contribute to the economic vitality of our communities.
About the Local Cultural Councils
Mass Cultural Council distributes funds to local and regional cultural councils, which then grant the funds to art, humanities, and interpretative science projects in their own communities. There are currently 329 local and regional councils that represent 351 cities and towns in the Commonwealth. This extensive grassroots system of public support for community cultural programs is unmatched anywhere in the United States.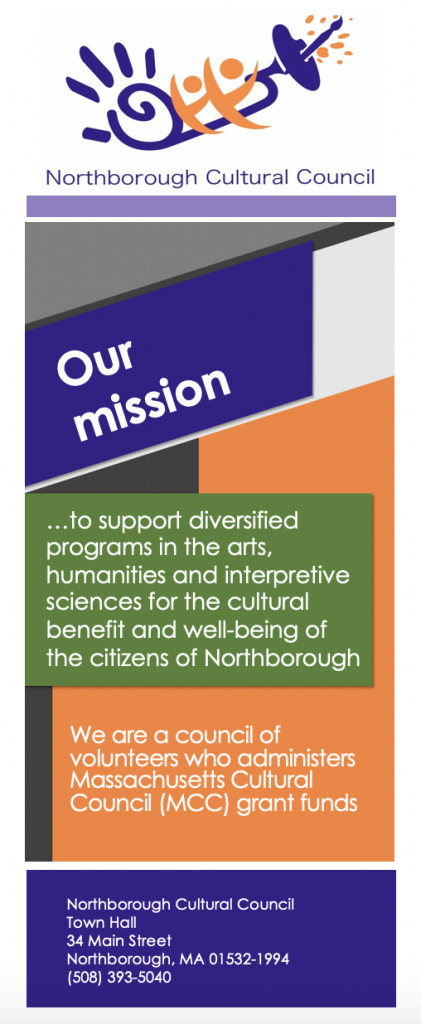 To support the goals set forth
by the Mass Cultural Council, the Northborough Cultural Council
Reviews grant applications from individuals, schools, art organizations, and not-for-profits, and awards MCC grant funds to projects that provide a local public benefit.
Establishes funding priorities that aim to bring community-oriented arts, music, humanities, and science projects to Northborough.
Enriches our community by identifying and serving our local cultural interests through surveys.
Forges partnerships that create and expand opportunities for the arts.
Cultivates new resources needed to promote the arts in Northborough.
Works toward establishing arts as basic to education and lifelong learning.
Uses the arts as a catalyst for understanding among cultures.
Advocates for increased awareness and access to the arts.
Local Cultural Councils are made up of volunteers who are appointed by their community's chief elected officials.
Chairperson: Terry Underwood
Member: Hannah Chen
Treasurer: Craig Cox
Secretary: Suzanne Cox
Member: Lori Tiron-Pandit
Member: Jen Tolman
Member: Jeanine Vitale